Who is H.Charles Beil?
Viewed largely as a mystery by those searching for his buried treasures H.Charles Beil is an enigma in today's society. What type of man buries well over a million dollars in treasure and leaves behind cryptic clues to its locations? Perhaps the bigger questions are Why? and Where?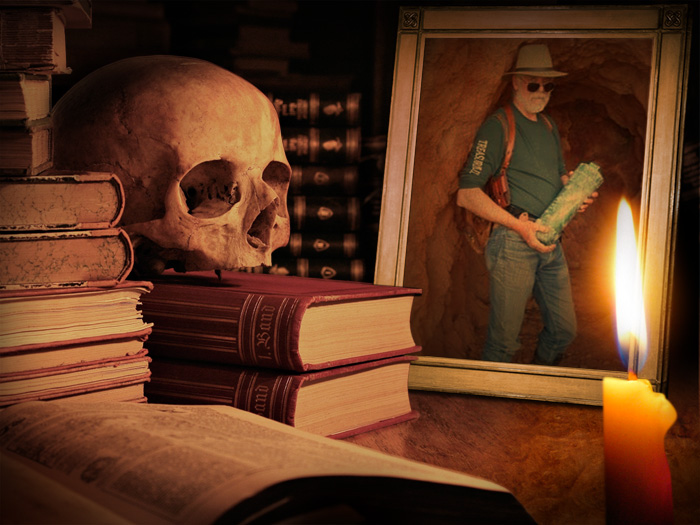 What we know about him so far is this …
H.Charles Beil received a degree in History from Duquesne University in 1982; studied historical geology, archaeology and oceanography under Skinner and other world renowned geologists and archaeologists and has been an avid treasure hunter for nearly 50 years. More recently He's received additional certifications from the Joukowsky Institute at Brown University in Archaeology, from Emory University in Nubian Archaeology, Tel Aviv University in the History of Jerusalem and from the U.S. Department of the Interior in Managing Archaeological Collections and another in Archaeology for Interpreters as well as technical certifications from the University of Southern California, Microsoft, CompTIA, Novell and other technology companies.
Beil is well known for his research and GIS capabilities and was one of the earliest treasure hunters to foster remote survey and the overlaying of maps and spatial data to discover heretofore unrecognized data sets and lost archaeological sites.
He's published numerous articles on the subject of treasure hunting and has been a frequent researcher in the tiny historical societies, large libraries and museums all along the Eastern Seaboard and the Mid-Atlantic States. He now shares the combined knowledge of this experience with treasure hunters worldwide allowing them to garner more satisfaction from their sport, make more and better finds, and share their appreciation for history through his social media websites that have received in excess of 3 million hits in a month.
Beil publishes the Ghost Town Journal, several Treasure Hunting booklets, pamphlets and electronic articles and Blogs under the H.Charles Beil (Treasureman) brands across the Internet. He's been published in Eastern & Western Treasures Magazine and on the well known E-zine website for original articles on treasure hunting.
As a writer, H.Charles is published in newspapers, magazines and digital media as well as in blogs and websites and several feature length movies. He is also the prime mover behind a new type of interactive fiction which provides the reader with real life treasure hunting adventures where the caches to be found reach into the hundreds of thousands of dollars.
His past publications include:
How to Read Old Homesteads and Locate Cellar Holes
Pennsylvania Ghost Towns: A Walk Through Time
The Ghost Town Journal: A Compendium
How to Conduct Historical Research
How to Read a 200 Year Old Document
Wealth on the Beach: Techniques for Beach Metal Detecting
Treasure Hunting Hot Spots
How You Can Find an Ounce of Gold a Day
Secrets of a Professional Treasure Hunter
Prospecting Equipment that You Can Build
Privy Digging and Locating Old Dump Sites
How to Research and Discover Shipwrecks
Abandoned Gold Mines: Your Passport to Wealth
How to Build Your Own Dive Hookah
Current projects include new publications on:
How to Outfit Your Own Near Coastal Exploration Boat
How to Locate and File a Gold Claim: Passport to Wealth Series
How to Overlay Maps and Conduct Remote Survey Using Free Internet Tools